1.Fish feed making machine Features:

1.The main machine is twin-screw extruder. Compared with the single screw extruder, it has a high degree of automation, stable performance, good product quality and large output.
2. The forced lubrication system, can guarantee the equipment transmission life longer.

3. Auto-temperature control system makes the temperature control more direct viewing and the parameter more precise.
4. Self-cleaning, when stopping, it can be cleaned without disassembling.
5. Through the pretreatment of the fodder, it can reduce loss of nutrition and advance the protein ratio. So the fodder will be digested easily by animals.
6. The processing line adopts corn flour, wheat flour,low temperature soya flakes meal, rice bran , wheat bran as raw materials
7. Puff snacks, pet food, floating and sinking fish feed pellets can be produced. For floating fish feed, it can float around 20 hours.
8. The diameter of fish feed from 0.5mm-15mm is available.
9. Sinking and floating fish feed can be shifted.
10. Formula will be provided according to customer's demand.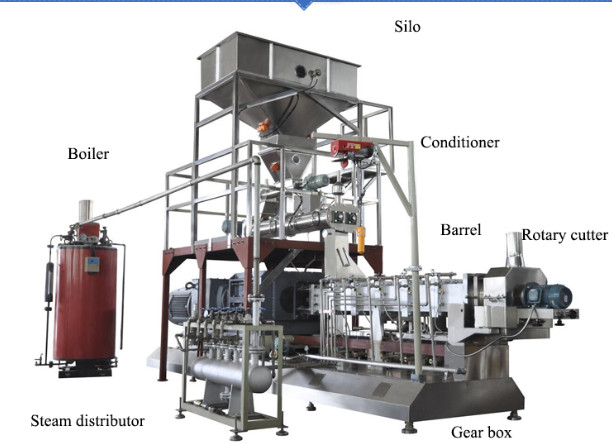 2.Flow chart of fish feed production line:
① The raw material processing system of the production line. Its function is raw material pulverizing, weighing and mixing.

② The twin-screw extruder is used for curing, puffing, and forming raw material (There is a pre-conditioner contained in the extruder that is used for pre-conditioning and pre-heating the raw materials through steam, the raw materials are softened, which is more conducive to molding, and at the same time reduces the wear and tear of the raw materials to the extruder machine).
③ The Air conveyor is used to deliver fish feed from the extruder to the dryer.
④ The dryer is used to dry fish feed. According to the different energy sources, we have electric dryers, steam dryers, oil/gas dryers for you to choose from.
⑤ The Hoister is used to deliver fish feed from the dryer to the flavoring machine.
⑥ The seasoning machine is used to spray the surface of the fish feed with drugs for treating fish diseases and attractants, etc.
⑦ This is another Hoiser which is used to deliver fish feed from the seasoning machine to the cooling machine.
⑧ The Cooling machine is used to cool fish food before packing.
⑨ The Z Shape Hoister is used to deliver fish feed from the cooling machine to the packing machine.
⑩ The Packing machine is used to pack fish food in different bags. We have fully automatic and semi-automatic packing machines for you to choose from. Powder, granular and blocky products can be packed by the packing machines.

3.Technical parameters:

| | | | | |
| --- | --- | --- | --- | --- |
| Model | Power | Consumption | Output | Size |
| FLD65-P(Dry) | 74kw | 22-30kw/h | 100-200kg/h | 17×1.5×2.2m |
| FLD70-P(Dry) | 105kw | 30-35kw/h | 200-300kg/h | 20×1.5×2.2m |
| FLD85-P(Dry) | 160kw | 60-65kw/h | 400-500kg/h | 30×1.5×2.6m |
| FLD85(Steam) | 150kw | 60-65kw/h | 500-600kg/h | 20×1.5×2.6m |
| FLD90(Steam) | 160kw | 70-85kw/h | 600-800kg/h | 30×2.0×3.0m |
| FLD95(Steam) | 180kw | 80-95kw/h | 1000-1500kg/h | 39×2.0×3.5m |
| FLD120(Steam) | 245kw | 128-150kw/h | 2000-3000kg/h | 45×2.0×3.8m |
| FLD140(Steam) | 280kw | 200-240kw/h | 3000-5000kg/h | 78×38×4.2m |
4.Product Sample: